Bishop-Wisecarver® MadeWell® Precision Wheels and Rollers

Bishop-Wisecarver® introduces the MadeWell collection, consisting of two types of linear guide wheels. The collection includes four sizes of crown rollers, available in carbon steel or polymer, and three sizes of radial wheels, offered in carbon steel or stainless steel.

MadeWell® Radial Wheels feature precision ground 90° vee running surfaces, catering to linear guide wheel applications in the radial direction with simplified loading conditions. Designed for use with 90° angle running surfaces like Bishop-Wisecarver®'s DualVee® linear guide track, these wheels offer a cost-effective solution. The concentric and eccentric options, coupled with a broad operating temperature range of -20°C to +100°C, make MadeWell® Radial Wheels the go-to choice for a multitude of industries, including architecture, engineering services, automated buildings, and more.
MadeWell® Crown Rollers come with precision ground curved running surfaces, ensuring smooth linear guidance while addressing misalignment and binding issues that can arise from parallel mounting of guide tracks; these rollers are designed for compatibility with flat surfaces. The design benefits of low noise, temperature tolerance, and versatile angular misalignment options make these crown rollers ideal for various applications, including motorized windows and doors, sliding wall panels, CNC engraving, guided sawing, and more.
Overall, the MadeWell® collection by Bishop-Wisecarver® provides versatile options to meet various linear motion needs.
Contact your nearest BDI location for more information about Bishop-Wisecarver® MadeWell® Precision Wheels and Rollers.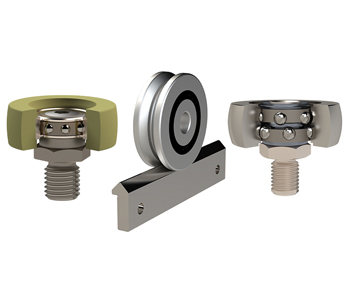 RELATED DOCUMENTS