Formsprag FSR Clutches

The machine's original clutch had begun to show signs of wear after several years of service. The Formsprag sleeve-bearing FSR is used as a backstopping clutch on the press feed drive.

The clutch is mounted on one end of the feed drive roller with the outer race grounded using a torque arm. This installation allows the drive roller to rotate in only the desired direction. Press feed rollers that handle steel and other stiff materials pulled from a coil need to resist the material's natural tendency to spring backwards or re-coil.
Suitable for general purpose overrunning, indexing and backstopping applications
Formchrome® sprags for maximum life and resistance to wear
Keyseat and snap-ring groove
Oil-lubrication
Buna-N oil seal at each end of the clutch
Eight different sizes available
"Free-action" sprag retainer (on selected models)

Contact your nearest BDI location for more information about Formsprag FSR Clutches.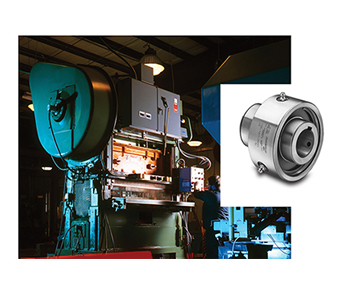 RELATED DOCUMENTS