MCR Safety Eyewear Protection

For many people style is the driving force in choosing protective eyewear. MCR Safety has designed some of the most stylish protective eyewear in the industry, with industry-leading technology; so not only are you safe but you look good while doing it. With an extensive choice of frame colors and lens colors, you can definitely find the right pair for any application. Don't just settle on any protective eyewear, chose safety that you'll love to wear! Choose MCR Safety!

March is Workplace Eye Safety Awareness Month. MCR offers solutions for the many of the eye safety challenges, including fogging. With most workers wearing masks, fogging has become a major problem for workers wearing safety glasses and we have several options including:
BK110PF is BearKat® BK1's super well thought-out construction combines the best in safety, comfort, and affordability! Your vision is unobstructed by the one-piece wraparound lens, which by its tight fit allows you maximum safety. Comfort is enhanced by the flexible temples and the non-slip temple sleeves are notched for a clip-on breakaway cord. The BK110PF features our premium MAX6® Anti-Fog coated lens that provide 6 times greater anti-fog performance over generic anti-fog safety glasses.
FF320AF is the most advanced performance glasses have arrived! Our ForceFlex® FF3 glasses are now lighter, more comfortable, and more flexible than before. This patented style surpasses military ballistic MIL-31013 test regiment for high velocity impact along with ANSI Z87+ standards. Radical styling combining soft materials on the temple and nose pads enhance looks and comfort. These high quality safety glasses have a lifetime frame warranty and are engineered to provide the highest level of innovation.
SR310AF - Get your swag on and conquer the next safety hazard with the Swagger® SR3 Safety Glasses. This series features a lightweight dual lens frame design, athletic bayonet temples, and are rated to meet or exceed the ANSI Z87+ high impact standards. The SR3 Series are dielectric, meaning that they contain no metal pieces. The SR310AF feature UV-AF® Anti-Fog coated lens that are Eco-friendly and UV cured, providing 3 times greater Anti-Fog performance than generic Anti-Fog safety glasses. These high quality safety glasses have a lifetime frame warranty and are engineered to provide the highest level of innovation.
VL210MB - There are many jobs that demand the use of hand held devices, RF scanners, or other portable devices. All of these devices emit blue light which has been known to cause eye fatigue, headaches, and migraines. Many of these jobs are also indoor and until recently a wearer that needed to block a good portion of blue light had to resort to amber lenses. The negative to amber lenses other than the yellow shade is it distorts color recognition. With MAXBLUE™ lens technology a worker can wear a clear lens that has a very faint mirror hue, yet while still blocking 41% of blue light. Pretty incredible!
DM1328BZ - The Dominator™ DM3 Series is one of the most versatile and adjustable safety glasses in our line! This series features wire core temples which allow the user to bend or adjust each temple to fit and feel just the way you want it to. Independently adjustable wire core nose pads can be shaped to fit you personally! Other options available include those with our MAX3™ scratch resistant coating which provides three times greater scratch resistance, our MAX6™ anti-fog coating which is proven to provide six times greater fog-resistance and dissipation, or our MAX36™ coating which provides both MAX3™ and MAX6™ protection on the same lenses. Available in a variety of frame and temple colors, you are sure to find a style that fits you perfectly. These high quality safety glasses have a lifetime frame warranty and are engineered to provide the highest level of innovation.

x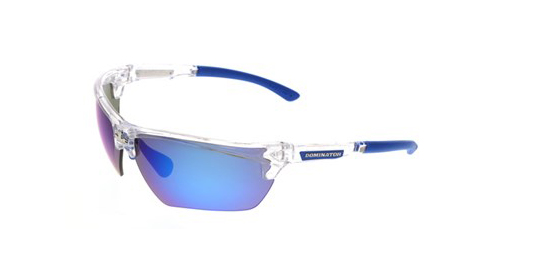 Contact your nearest BDI location for more information about MCR Safety products.
---