PCI's Ice-Eradicator® Pulleys
World's first proven solution to temper the costly effects of frozen conveyor belts!

PCI has been developing Conveyor Pulleys and Components for more than 35 years. An integral part of our success has been our commitment to understanding the ever-changing needs of our valued customers and developing solutions that turn application hurdles into success stories. It is this critical interaction that has fueled the development of our Ice-Eradicator®. PCI's patent pending design offers several unique advantages:

COLD WEATHER PERFORMANCE
The Ice-Eradicator reduces belt slip in cold environments through its patent pending heated core technology. In freezing environments, conveyor belts become rigid, preventing conveyor operation by disrupting the ability of the drive pulley to grip the belt. The Ice-Eradicator enhances belt grip in cold temperatures by maintaining an elevated temperature near the pulley's outer surface thereby heating the belt to discourage belt freeze.
REDUCE SAFETY HAZARDS
In cold weather months, frozen belts increase the amount of time required to successfully startup a plant operation. To minimize downtime, unorthodox methods of resolution are sometimes employed. Many of these methods increase the likelihood of workplace accidents. The Ice-Eradicator reduces the safety risk posed by direct human intervention at the drive position with tools like propane burners or liquid chemicals.

NO DIRECT FLAME
Alternate methods for resolving frozen conveyor belts utilize direct flame to provide the heat necessary for startup. Although effective, use of direct flame at the site can increase the risk of fire or workplace injury. In addition, heating fuel can prove costly during cold weather months. The patent pending design of the Ice-Eradicator eliminates the need for direct flame providing proven performance without the added cost and risk of direct flame.

SIMPLIFIED INSTALLATION
The Ice-Eradicator is engineered for easy installation with minimal modification to the existing conveyor structure. Worry free performance at sub-zero temperatures is possible with a single 120V 15A power service.

PCI's knowledge, and experience, enables us to be your trusted advisor when it comes to providing the right product for your needs. Whether it's dimensional adjustments, or analysis and application guidance to resolve problematic demands, PCI provides Solutions Through Innovation!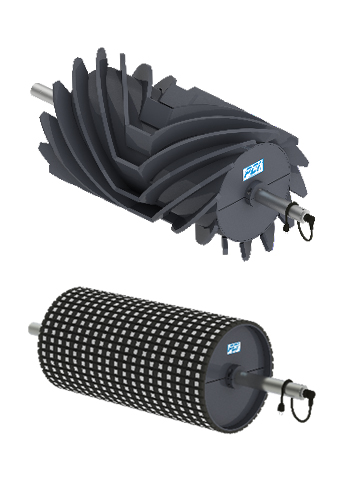 PCI - Ice-Eradicator® Pulleys

RELATED DOCUMENTS