Timken® Belts

Performance Driven. Performance Proven. Timken Belts.
BDI offers a comprehensive line of Timken® belts that feature highly engineered specialty solutions designed to withstand unique challenges on the toughest, most demanding applications. In addition to standard synchronous, v-ribbed, Fhp and heavy-duty v-belts, Timken Belts offers a variety of tools that assist you and your customers in realizing maximum belt life through proper v-belt installation and maintenance.
Every Timken® belt is developed from the ground up. Not only the belt but its components are manufactured by Timken belts associates to assure that quality is built into every step of the process. Belts are engineered and built to tight tolerances to ensure reliability and optimal performance in the ISO 9001:2015 certified technical center and manufacturing plants in the USA. Choose Timken Belts for innovative products, unrivaled quality, and superior customer service.
Timken Belts is part of The Timken Company's growing portfolio of engineered bearings and industrial motion products. A manufacturer of premium performance power transmission belts, Timken Belts' associates and products help keep industry in motion and the world more productive.
Contact your nearest BDI location for more information about Timken® Belts.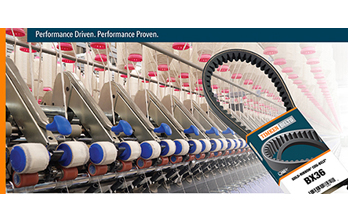 RELATED DOCUMENTS