The baggage claim area in airports features steel plates that are moved by chain. The chain's matched strands grab the button below each plate to drive the carousal.The original equipment maker uses specialty chain, giving the manufacturer control of aftermarket sales. Over time, the chain elongates and requires replacement.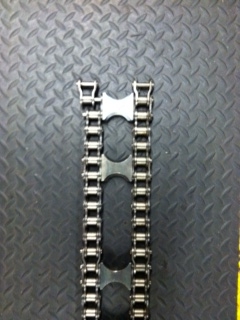 In an effort to avoid the high cost of replacement, a BDI customer disassembled the original chain; however, they could not figure out how to put it back together. The customer requested our help.
BDI contacted our chain manufacturer partner for assistance.  With their help, the D3 links were altered to ensure the proper sequence of chain. The strands were also pre-stretched to keep them parallel. To solve the press fit, Loctite 609 was used to lock the pins into the block.
This solution worked perfectly and provided a 60%+ savings to the customer.
See the attachment below for details.