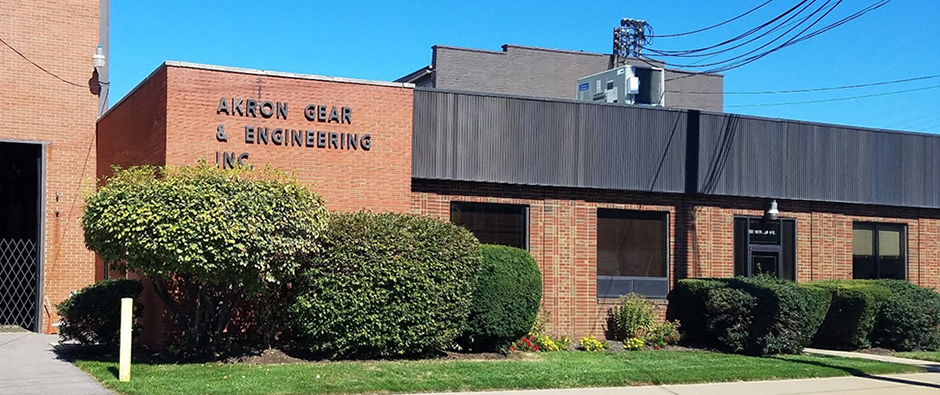 Gearbox Repair | Akron Gear & Engineering
Partner with BDI as your one-stop shop for gearbox repair.
A BDI sister company, Akron Gear is a one-stop source for your gearbox needs. Repair and refurbish capabilities for all makes and models of gearboxes up to 25 tons, including parallel shaft gearboxes, worm gearboxes, helical and bevel gearboxes, spiral bevel gearboxes, multiple input / output, in-line gearboxes, and planetary gearboxes.
---
Gearbox Repair Services
Akron Gear & Engineering provides quality, fast repairs by trained engineers, designers and technicians, experienced in the special workings of gearboxes, open gearing and general machining applications.
Gearbox Repair and Updgrades
From replacing bearings and seals to completely remanufacturing obsolete units, Akron Gear has the ability to refurbish your unit up to 50,000 pounds.
Gear Manufacturing
Since 1911, Akron Gear & Engineering has been providing quality parts and service to a wide range of industries, from the steel mills to the medical industries.
Reverse Engineering
Parts not available from the OEM? No Blueprints? No problem! AGE reverse engineers your parts, even damaged ones, and produces clear, detailed prints to manufacture from.
Machining / Turning
Akron Gear possesses the equipment and knowledge to handle some of the largest machining jobs; from 120" diameter turning to 5-Axis CNC machining.
Lubricant Analysis
AGE provides gearbox lubricant analysis through trusted partner REAL Services. REAL Services is the most comprehensive PDM Laboratory, with practical experience relating Equipment Particle Analysis (Ferrography) and used lubricant analysis for capital equipment reliability assessment to provide a return on investment of your PM program.
Gearbox Restoration
Every gearbox rebuild includes full disassembly and inspection of the internal drive components. Parts that can be reused are fluorescent penetrant inspected. Housings are sandblasted, inspected for damage and painted internally and externally with two-part epoxy paint. AGE rebuilds all makes and types of drives including planetary, parallel shaft, worm gear, and bevel gears. The repair center offers several service options, low cost teardowns, and fast turnarounds.
---
Gearbox Brands Repaired
The most commonly repaired gearbox brands, repairs for other brands are also available.
---
Industries We Serve
BDI and Akron Gear provide gearbox repair serves for a wide variety of industries.

Steel · Power Generation · Mining · Plastics · Food · Wastewater · Automotive · Construction · Stamping · Recycling · Extrusion · Paper
---
Capabilities
Size capabilities for different types of gearing.
Gear Type
Capabilities
Spur Gears
Max Outside Diameter: 120"
Helical Gears
Max Outside Diameter: 84"
Herringbone Gears
Max Outside Diameter: 72"
Internal Gears
Max Outside Diameter: 36"
Bevel Gears
Max Outside Diameter: 24"
Miter Gears
Max Outside Diameter: 24"
Spockets
Max Outside Diameter: 120"
Spline Shafts
Max Spline: 24" Max OD: 5.75" Max Length: 96"
Worm Gear Sets
For more information, contact your nearest BDI location or learn more:


RELATED DOCUMENTS